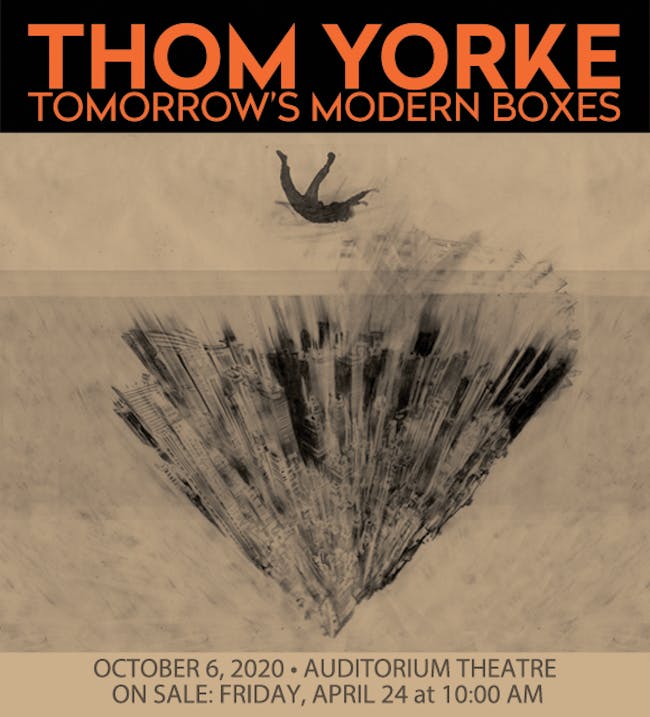 Thom Yorke
Auditorium Theatre
$35.00 - $75.00
On Ticketmaster
All Ages
Tomorrow's Modern Boxes – the touring entity comprised of Thom Yorke, Nigel Godrich, and visual artist Tarik Barri – is being moved from Chicago's United Center to the historic Auditorium Theatre in downtown Chicago. The new date is October 6, 2020. Showtime is 7:30pm.
Everyone who purchased tickets for the previously scheduled April 4 show at United Center will be automatically given a full refund via Ticketmaster. Fans who wish to attend the October 6 concert at the Auditorium Theatre will be given an early presale offer to purchase tickets before the general public. That offer begins on Monday, April 20 at 10:00am and continues through Thursday, April 23 at 10:00pm.
Tickets for the Auditorium Theatre show will go on sale to the general public on Friday, April 24 at 10:00am and can only be purchased online at Ticketmaster.com.
Reserved seats ($75/$55/$35). There is a 4-ticket limit per purchase.
Venue Information:
Auditorium Theatre
50 E Congress Parkway
Chicago, IL, 60605