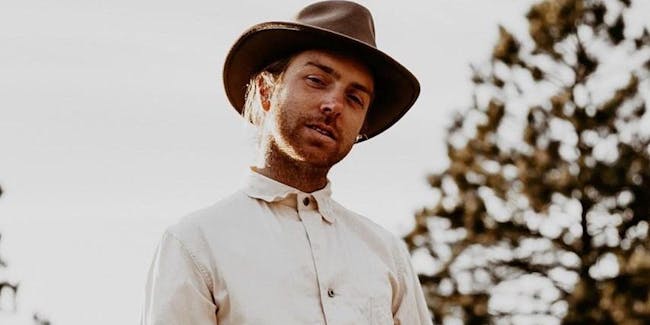 Trevor Hall
The Vic Theatre - Jam Productions
NEW 2021 DATE
This show is rescheduled from Thursday, April 23, 2020 to Friday, April 23, 2021. Tickets previously purchased will be honored on April 23, 2021 - no need to exchange.
If you purchased directly from the box office with cash or have additional questions, please contact info@jamusa.com for more information.
No backpacks, bags, laptops or tablets allowed in the venue. For a full list of prohibited items, click here.
TREVOR HALL
Website | Facebook | Twitter | Instagram | YouTube | Spotify

Trevor Hall realized at a very young age that music was more than just a passion. As an eleven year old, playing harmonica beside his father in the cradle of the weeping willows of South Carolina, music quickly became his most intimate companion, guide and creative outlet. In his elementary years, he began to write his own songs and perform them locally.

At sixteen he recorded his first record, and the following year he left South Carolina to study classical guitar at Idyllwild Arts Academy, an international boarding school east of Los Angeles. There, Trevor was introduced to yoga and certain spiritual practices found in India, which greatly influenced his music and his life journey. During his senior year, Trevor signed a record deal with Geffen Records and his career as a musician formally began.

Trevor quickly broke through the music scene, with such early accomplishments in his career as having a song recorded on the Shrek the Third soundtrack, as well as joining a series of sold-out tours with artists such as Steel Pulse, The Wailers, Jimmy Cliff, Matisyahu, Michael Franti and Colbie Callait. Trevor's quick rise on the scene, however, was ripe with challenges that conflicted with his spiritual life and devotional practice. In order to parallel his life's path with the messages in his music, Trevor moved into a traditional Hindu ashram in Southern California in 2008. When not on tour, he lived as a monk and devoted his days to spiritual practice and service. His involvement with the temple affected his music and his music quickly became his practice.

Trevor Hall's music – an eclectic mix of acoustic rock, reggae and Sanskrit chanting – echo with the names and teachings of divinities, while maintaining an incredibly and refreshingly universal message. While on the road, Trevor sees the stage as his moving temple, a place where he can share in the experience of his spiritual journey with his audience. Trevor's annual trips to India also continue to serve as a source of creativity and motivation for his music. The precious lessons and experiences that he has harvested from his journeys East have moved Trevor to return a service to those whom have colored his music and his life so beautifully. Trevor uses donations collected at his live shows to help support an ashram in Allahabad, India, the home of his Guru, where underprivileged and orphaned boys and girls are given the chance at a better life and a traditional Vedic education.

Trevor's self-titled debut album debuted on Billboard's Heatseeker chart at #7 in 2009. It featured the single "Unity," written and performed with his longtime friend, Matisyahu. Trevor was named one of the Top 20 New Artists by Music Connection magazine and in 2010 MTV named him one of the twenty emerging artists.

His follow up album, Everything, Everytime, Everywhere, was released in 2011 and debuted on the iTunes Rock Chart at #3, iTunes Top Albums at #12 and #8 on Amazon Movers & Shakers. The featured single, "Brand New Day" was used as the music bed for the CBS This Morning Show.

In 2013 at the age of 26, after touring consistently for ten years, Trevor decided to take a break from the stage and go on an extended pilgrimage to India. There he spent many weeks studying under a classical Baul musician born and trained in the villages of Bengal. Trevor returned from his trip and retreated deep into the green mountains of Vermont and Maine where he spilled all that he had learnt onto the page and into song, resulting in the release of Chapter of the Forest in 2014. It debuted at #3 on the iTunes Singer/Songwriter Chart and #17 on the iTunes Top Albums Chart.

His latest album, KALA, written in Hawaii and recorded in LA, was released August 21, 2015. It debuted at #2 on the iTunes singer/songwriter chart. KALA marks the final chapter in a trilogy that chronicles Trevor's spiritual and musical journey over the past few years. "It's a graceful amalgam of styles by a musician who loves to embrace the music of the world." (Popmatters)

Venue Information:
The Vic Theatre - Jam Productions
3145 North Sheffield
Chicago, IL, 60657