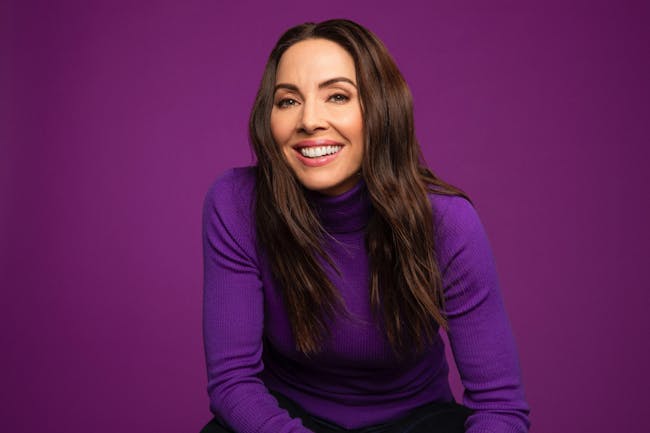 Whitney Cummings
The Vic Theatre - Jam Productions
NEW DATE
This show is rescheduled from Friday, March 27, 2020 to Saturday, August 8, 2020, and again to Saturday, April 10, 2021. Tickets purchased for March 27 or August 8, 2020 will be honored on April 10, 2021- no need to exchange.
If you purchased directly from the box office with cash or have additional questions, please contact info@jamusa.com for more information.
No backpacks, bags, laptops or tablets allowed in the venue. For a full list of prohibited items, click here.
Whitney Cummings
Website | Facebook | Twitter | Instagram | YouTube | Podcast (Good For You, every Wednesday)

WHITNEY CUMMINGS is a Los Angeles-based comedian, actor, writer, producer and director. Best known for creating and starring in the NBC series "Whitney," she also co-created and co-wrote (with Michael Patrick King) the Emmy-nominated CBS comedy series "2 Broke Girls."

In November of this year, Whitney launched her own podcast titled "Good For You." Whitney has a lot of questions for a lot of different kinds of people. She also has opinions. And a robot. "Good For You" is self-produced by Whitney alongside Made By Super and records in Los Angeles. New episodes are released on Wednesdays.

Whitney debuted her 4th stand up special, "Can I Touch It?" on Netflix on July 30th. Filmed at the Sidney Harmon Hall in her hometown, Washington, DC. The special touches Whitney's take on everything including her signature incisive commentary on gender dynamics and why we should give sex robots a chance.

Up next, Whitney will star and executive produce a new half-hour comedy for Amazon, "Good People" which she co-created alongside Lee Daniels. The show revolves around three generations of women working in the ombudsman's office of a college that navigates the current cultural climate, the concept of feminism across different generations, and the struggle to reconcile socially constructed ideas with current ethical views regarding complex issues such as sex, race, class and gender.

In October 2017, Whitney debuted her novel "I'm Fine...And Other Lies," which details her brutal anxiety and codependency disorder, written with her trademark entertaining wit, humor, and honesty. That same year, Whitney made her directorial debut with the feature adaptation of Louann Brizendine's best-seller,"The Female Brain". In addition to co-writing and directing, she stars alongside Sofia Vergara, James Marsden, Lucy Punch, Toby Kebbell, Cecily Strong, Beanie Feldstein, and Blake Griffin. "The Female Brain" comically details the inner workings and complex power of brain chemistry among couples at different stages of their relationships. The film premiered at the Los Angeles Film Festival and was distributed by IFC.

On the big screen, Whitney was last seen in "Unforgettable" for Warner Bros. Past feature film credits include "The Wedding Ringer," "Made of Honor," and "The Ridiculous Six." Whitney has appeared in such series as "Undateable," "Workaholics," "Maron" and the Comedy Central Roasts, which have solidified her presence in comedy television.

Her first one-hour stand up special, "Money Shot," premiered on Comedy Central in August 2010 and was nominated for an American Comedy Award. Her second one-hour stand-up special, "Whitney Cummings: I Love You," debuted on Comedy Central in June 2014.Her third one-hour stand-up special "I'm Your Girlfriend," aired on HBO in 2016.

Venue Information:
The Vic Theatre - Jam Productions
3145 North Sheffield
Chicago, IL, 60657