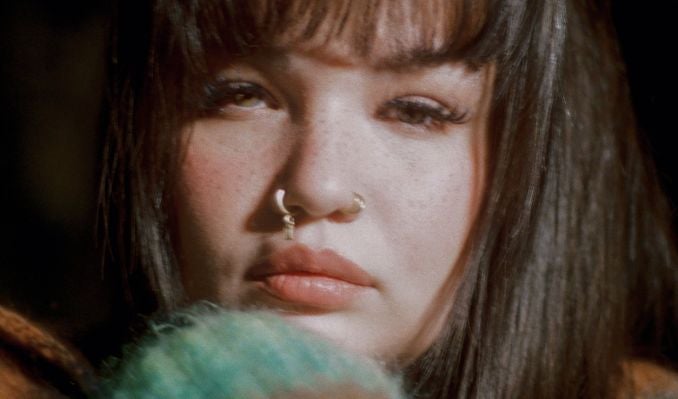 Oct 8 Sun
Jam Presents
Doors: 6:30 PM / Show: 7:30 PM
All Ages
Beat Kitchen
Oct 8, 2023
Date

Oct 8, 2023

Event Starts

7:30 PM

Doors Open

6:30 PM

On Sale

On Sale Now

Ages

All Ages
22-year-old Lola Young has one of those voices. You know, the ones that are impossible to ignore: made for smoky dark clubs as much as hushed arenas, it's got a depth, rawness and huskiness that reduces crowds to pin-drop silence.
Where previous releases have seen Lola interrogating her life with honesty, My Mind Wanders And Sometimes Leaves Completely is a new era for the young singer-songwriter. Love is a theme she'll always tackle in her music, she says – "it's the most relatable topic, isn't it?" – but on this project she's fully stepped out of her comfort zone, testing her writing ability to confront new topics, while mining new depths of her creativity.
On My Mind Wanders And Sometimes Leaves Completely, Lola set out with the idea that no one is two-dimensional, or perfect. Armed with that vocal that switches between soft and strong at a moment's notice, Lola uses a folk storytelling and diaristic style to offer the listener a front seat to immersive snapshots of her life. "It's my journey towards being a woman and figuring out who I am," she says. "There's a lot of references to people telling me I won't make it [in the music industry]. It's almost me talking to myself, addressing the difficulties you go through growing up, your insecurities."
Dealing with themes such as love bombing, gaslighting, body image and depression among others, it's a relatable listen for any young person growing up today. It's peppered with vivid details, like her ex buying her a record to play on her birthday – "don't even listen to punk, do you know me?" she sings on "Semantic Situation"), and someone saying she needed to read a book titled How To Be Happy, "and I think that was a bit of a dig" ("Revolve Around You").
"Pretty In Pink" is her "talking about the way that I hate life through love," she says. "Like I'm falling out of love with life, but I can't help it, it's not about you, it's just about the way I'm feeling about the world, but in more of an existential way." It's a piano-led ballad in the time signature of 7/4, "which makes you nod your head in a weird way, it's a bit Radiohead-y," she says. "When we do it with a band, the drummer can never get it right!"
While ballads are undoubtedly her thing, there's a distinctly London edge to Lola's music, bolstered by her love of old hip hop and UK rap. She's not averse to a crossover, too: she collaborated with Arrdee on his "Who Woulda Thought" track, and has brought that inner-city edge to the new project which has "a house party feel," she says. "Money Won't Wake", a track written about a "super rich kid" who spends their money in the wrong way, "crushing pills on leather seats" has a broken, head-nodding hip hop beat. With its hazy, stumbling feel and Mike Skinner-style syntax, "Stream of Consciousness" does exactly what the title suggests: it's a direct look into Lola's headspace. At one point, she argues with herself in her head: "This isn't a stream of consciousness, this is more like a big fat fucking no-one asked!"
To put the record together, she flew to LA, meeting producers and songwriters like Frank Ocean favourite Malay, Cass Lowe (Tinashe, Ray BLK) and Jim-E Stack (Charli XCX, Caroline Polachek). "There's videos of me being like, 'No, do the drums like this'," she laughs, of her hands-on approach to music-making.
There was never really any question about whether Lola would become a singer. She started writing poetry and songs aged 11, before doing her first pub gig at 13. She enrolled into the prestigious Brit school and released her debut full-length, Intro, aged just 19. She comes from a musical and creative family; born in Croydon to a Jamaican-Chinese father and English mother, and raised in Beckenham, South East London, she grew up listening to Avril Lavigne and Eminem, later finding herself drawn to the likes of D'Angelo, Prince and Joni Mitchell.
Once she started releasing (the mature, personal Renaissance was her three-tracked debut), the accolades came in thick and fast: a Brit Rising Star nomination, Amazon Next Breakthrough artist, a spot on the BBC Sound Of… poll, an Elton John co-sign, an Island Records signing. No artist likes comparisons, but Adele – the one Lola gets constantly – is one she happily takes.
But as is often the case in life, when things are going to plan, something inevitably goes wrong. Lola has repeatedly suffered from cysts on her vocal cords, which makes singing tough, and problems with her mental health. Then there was Covid, which struck just after Lola had just begun releasing her music to the world. "All of my plans for my music got cancelled – that was really stressful," she says. Whereas many albums trickled out of lockdown sessions, that wasn't true for Lola, who spent the time "sitting in my bed and thinking and being depressed". When you're not having any real life experiences, what is there to write about?
Lola's fundamental aim is to "know that I've helped someone else or pushed someone else through something," she says. "I've got songs that have done that for me. So to hear that one of my songs I've actually written has helped someone else do that is incredible." And it's already happening: at her gigs, she finds that people come up to her afterwards, telling her her music has made an impact on them (at a recent show, she bought everyone who came to say hi afterwards drinks for the whole night).
Coming from a lineage of powerful female British vocalists, Lola Young is undeniably on the path to greatness. Shrugging off the "rising star" label to cement herself as one of the country's rawest talents at just 22, her debut project My Mind Wanders And Sometimes Leaves Completely is a defining statement: a work of pain, heartbreak, and inner strength.