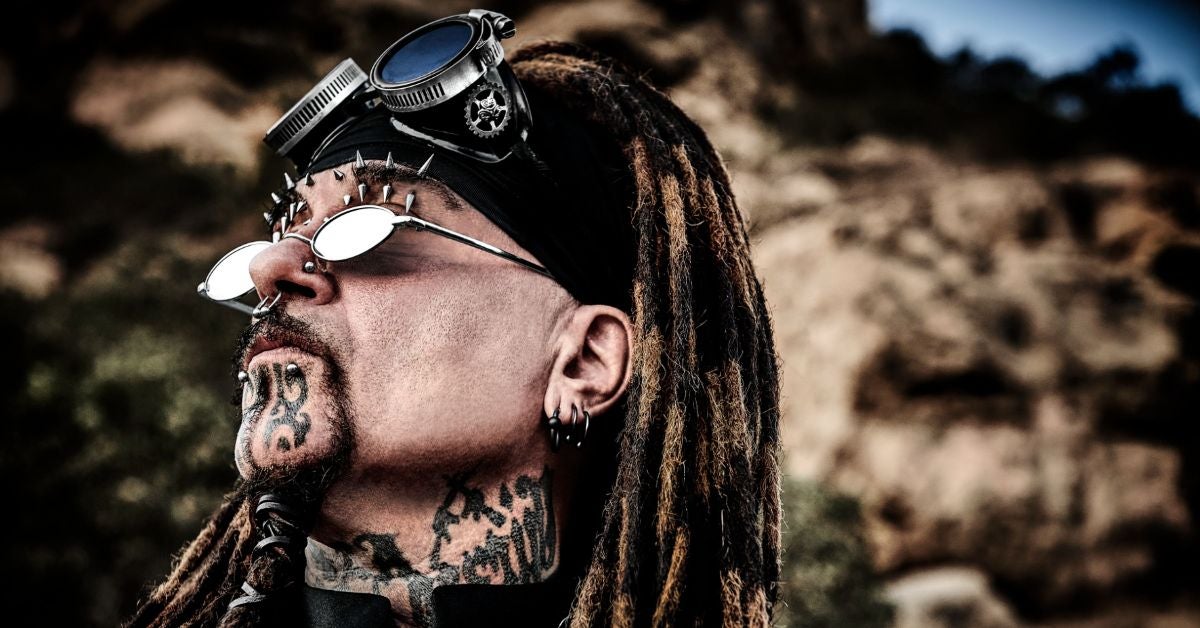 Mar 31
Jam Presents
Melvins, Corrosion of Conformity
Industrial Strength Tour
Doors: 6:00 PM / Show: 7:00 PM
18 & Over
Riviera Theatre
Mar 31, 2022
Date

Mar 31, 2022

Event Starts

7:00 PM

Doors Open

6:00 PM

Ticket Prices

$38.50

On Sale

On Sale Now

Ages

18 & Over
After enduring a year like 2020, no one could have possibly expected Al Jourgensen to stay silent on the maelstrom of the past 12 months. As the mastermind behind pioneering industrial outfit Ministry, Jourgensen has spent the last four decades using music as a megaphone to rally listeners to the fight for equal rights, restoring American liberties, exposing exploitation and putting crooked politicians in their rightful place—set to a background of aggressive riffs, searing vocals and manipulated sounds to drive it home.
As Jourgensen watched the chaos that befell the world during the height of a global pandemic and the tensions rising from one of the most important elections in American history, he seized on the opportunity to write, spending quarantine holed up in his selfbuilt home studio—Scheisse Dog Studio— along with engineer Michael Rozon and girlfriend Liz Walton to create Ministry's latest masterpiece, Moral Hygiene (out October 1 on Nuclear Blast Records). Anchored by last year's leadoff track "Alert Level"—which asks listeners to internalize the question "How concerned are you?"—the 10 songs on this upcoming 15th studio album cover the breadth of the current dilemmas facing humanity, while ruminating on the sizable impact of COVID-19, the inevitable effects of climate change, consequences of misinformed conspiracies and the stakes in the fight for racial equality. And most importantly doing so with the lens of what we as a society are going to do about it all.
"The one good thing about taking a year off from any social activity is that you really get to sit back and get an overview of things as opposed to being caught up in the moment," says Jourgensen, "and what became inevitably clear is that the times are changing and this past year has been a wake up call—and that's a very good thing. Because society as we have known it the past few decades has needed to change," he continues. "Ever since Reagan and the girth of Wall Street, we have become too close to the belief that greed is good. Society has really taken a dark turn and now we are bearing the fruit of that that misdirection driven by the idea that it's all about me and not other people and to take care of yourself and fuck everything else. We now more than ever need moral hygiene. It's what we have to return to in order to function as the human species on this planet."
Moral Hygiene comes on the heels of Ministry's acclaimed 2018 album AmeriKKKant (hailed by Loudwire as Jourgensen's own "state of the union" address) that was written as a reaction to Donald J. Trump being elected president—though Jourgensen says this new album is more informational and reflective in tone. "With AmeriKKKant I was in shock that Trump won. I didn't know what to do, but I knew I had to do something. Because I believe if you are a musician or an artist you should be expressing what's going on around you through your art. It's going to happen whether you do it consciously or unconsciously. Moral Hygiene however has progressed even further into a cautionary tale of what will happen if we don't act. There's less rage, but there's more reflection and I bring in some guests to help cement that narrative."
In addition to recruiting long-time cohort Jello Biafra (Jourgensen's partner in the side project Lard) for the quirky earworm "Sabotage Is Sex," other guest appearances include guitarist Billy Morrison (Billy Idol/Royal Machines) on a rendition of The Stooges hit "Search & Destroy."
There's also the riotous track "Good Trouble," inspired by the message of activism and social justice in John Lewis' posthumously published essay, released by New York Times after the Congressman's passing last July.
"I remember watching the coverage of his death and the next day seeing this entire letter from him come out and thinking not only is John Lewis a Civil Rights icon but he was so astute to think of how that legacy could fit into the progress of the future," says Jourgensen. "That letter was so heartfelt and his words were so much aligned with my own ideals I just immediately knew I wanted to dedicate a song to him. That track really is the moral backbone of this album."
Another standout track is "Believe Me," featuring a throwback vocal style from Jourgensen that harkens back to his singing on Twitch and cult classic "(Every Day Is) Halloween." The song came out of a jam session with Morrison, Cesar Soto and sampling from Liz Walton, and reminded Jourgensen of his formative days at Chicago Trax Studios where communal ideas were constantly informing early Ministry records. "'Believe Me' had such an old school vibe I wanted to bring back old school vocals. …It's funny how things come back to you," says Jourgensen, also reflecting on Ministry turning 40 in 2021.
Though there have been other side projects over the years including Revolting Cocks and Surgical Meth Machine, Ministry remains Jourgensen's lifetime passion project, and was first established in Chicago in 1981 through a relationship with legendary Wax Trax! Records. In its earliest days, Ministry was identifiable by a synth-pop style in line with the new sounds and technology that were being developed in the '80s, no moreso than on the infamous LP With Sympathy released by Arista Records in 1983. Yet as time progressed, so did Ministry, quickly developing a harsher and more stylized sound that found the band and Jourgensen heralded as the godfathers of industrial music amidst the release of seminal albums Twitch (1986), The Land of Rape and Honey (1988), and The Mind Is A Terrible Thing To Taste (1989) that became cultural cornerstones. With Psalm 69: The Way to Succeed and The Way to Suck Eggs (1992), Ministry hit an all time high in the mainstream and received its first of six lifetime Grammy nominations. Eight more albums would follow before an indefinite break in 2013, only to be unearthed again in 2018 with AmeriKKKant.
With the release of Moral Hygiene, Jourgensen is more positive than before. "This may sound crazy but I'm more hopeful about 2021 than I have been in two decades at least," he says. "Because I do see things changing; people are starting to see through all the bullshit and want to get back to actual decorum in society. We could just treat each other nicely and be treated nicely in return. I never thought Ministry would be in the position of preaching traditional values, but this is the rebellion now."
Vaccine Policy and Mask Mandate for the Riviera Theatre
VACCINE POLICY
With our return to live concerts and our commitment to producing safe events, all patrons will need to show proof of vaccination (must be 2 weeks past final dose) or a negative COVID-19 test within 72 hours from the time of entry along with a government issued photo ID. Proof of vaccination can only include a CDC COVID-19 Vaccination Record Card, a clear photocopy or digital photo of the CDC card. Fans who have either (1) a medical condition, or (2) a closely-held religious belief that prevents vaccination, can still attend the concert by showing proof of a negative COVID-19 test performed within the previous 72 hours that matches the government issued photo ID. Taking this step helps to ensure the safety of our guests, staff, and the artists, and implementing this simple measure minimizes risk and the spread of the virus. We encourage you to get vaccinated if you have not already!
MASK MANDATE
Following updated guidance from the Centers for Disease Control and Prevention (CDC) and based on Chicago's current local COVID-19 data, the Chicago Department of Public Health (CDPH) is requiring that everyone age two or older, regardless of vaccination status, wear masks in public indoor settings, effective Friday, August 20, 2021. A non-vented N95 mask or other well-fitted mask is strongly recommended to provide maximum protection. We will not allow a scarf, ski mask, balaclava, bandana, turtleneck, collar, single layer of fabric, or any mask that has an unfiltered one-way exhaust valve.
COVID-19 WARNING
An inherent risk of exposure to COVID-19 exists in any place where people gather. COVID-19 is an extremely contagious disease that can lead to severe illness and death. You assume all risks, hazards, and dangers arising from or relating in any way to the risk of contracting COVID-19 or any other communicable disease or illness, or a bacteria, virus or other pathogen capable of causing a communicable disease or illness, whether occurring before, during, or after the event, however caused or contracted, and voluntarily waive all claims and potential claims against Jam Productions, Ltd. and the Riviera Theatre (including Riviera Entertainment Properties, LLC and Riviera Productions, Inc. ) relating to such risks.